No Hiding the Wrath of Addiction
We all have something that we have been hiding. And, no, this time I am not talking about hiding with coffee. There are things – life events – that define who we are. Most often when thinking about those life events, we reflect on our fortunate experiences. When, in reality, it is the unfortunate events that lay deep grooves in the fabric of who we are. My story includes the wrath of addiction.
I have written and rewritten these words wondering if this is a story I can tell in this forum. It scary to tell the story of something that is so often stuffed away – in our past – and kept hidden. However, I know that addiction is not selective; it is not a curse, not a punishment. It is a reality.
Acknowledging that fact permits me to share, knowing that each and every one of you has felt the reach of addiction. To you that reach may be a slight finger touch or, similar to my experience, a slap in the face.
As a young girl there is no one I adored more than my father. He embodied all that a father should be: loving, affectionate, silly, intelligent, and full of life. At a very early age, I understood that his world revolved around my brother and I. You often hear people refer to their children as their "pride and joy." For my dad, there was no reason to say it. We felt it. I only hope my children feel a fraction of the love and adoration I felt from my father. All that love and affection could not shield us from what addiction does.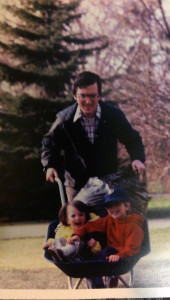 My brother and I getting a hilarious ride in the wheelbarrow
When I was 23, my father died. Not in a dignified, respectable manner that would honor the man that he was but on the floor of a jail cell.
He was no hardened criminal; he was a man suffering, like so many others, from addiction. The morning after his death my hero's face was plastered on the front page of the Milwaukee paper and my world crashed. Quite obviously, the loss of my father was unspeakable and still something I struggle with but even more shocking was the unbelievably public way that his secret – our secret- was revealed.
As a young man, my father was remarkably driven. His accomplishments as the student body president of a small northern Wisconsin high school gave him a taste of public service which propelled him towards his role as student body president at the University of Wisconsin-Stevens Point. It was there that his spirit was recognized by then University President, Lee Dreyfus. It was the relationship between my dad and the red-vested Dreyfus that years later propelled my father to be, at the time, the youngest member of the University of Wisconsin Board of Regents as appointed by the then Governor Dreyfus. He later became the president of the Board of Regents and served in that position passionately.
With the love of his life at his side, my father spent time working on Capitol Hill in Washington while working his way through law school at Georgetown University. As exciting as his time on the hill was, my dad was a hometown boy at heart. Settling in Madison, Wisconsin his life as a young attorney was noticed.
Eventually, he and my mom found a permanent home in the suburban town of Glendale, Wisconsin, just north of Milwaukee. This is where my roots were established in a loving home that felt as if it were lifted from the pages of a typical suburban family's story. Little did I know that deep within my father were the hidden pulls and demands of addiction. His internal struggle with that pull was kept well shielded for years. Even the shock of his first DUI did not really bring the magnitude of the issue into focus for me. As a loving wife and mother, my mom was fiercely loyal to our family unit. I realize now the sacrifices she made to maintain the normalcy she knew my brother and I deserved.
A source of great pride for my dad was the day my older brother left for UW-Madison. Looking back, it was then that I started to realize that the foundation on which my family unit was built had dramatically shifted. Addiction reared its ugly head and I came face to face with its wrath. Things began to rapidly unravel for my dad as his addiction to alcohol became harder to hide. It was then that those who loved him most tried to yell, love, demand and persuade him to overcome and rise above the force that had its hold over him. Addiction doesn't work that way.
College, for me, was an escape. I was far enough removed from the day-to-day struggle of trying to love my dad out of his addiction. I credit my mother for sacrificing so much by shouldering the weight of my dad's addiction on her own to allow my brother and me to stay sheltered from how bad it had become.
On my first trip home from college – Thanksgiving weekend – we conducted an intervention. We sat around the conference table of an unfamiliar office building begging my father to accept treatment. His beloved children were home from college and were begging him to skip Thanksgiving and immediately enter a treatment facility. His reluctant agreement started the series of 4 trips to rehabilitation centers over the next several years. While brief spins of sobriety were the reward for this expensive and heart-wrenching treatment, the ties of addiction always resurfaced to steal my dad from me.
Addiction is a family disease. It is powerful enough to take a man of great character and drive him to the depths of despair. When my father was taken into custody on a warrant for failing to show up to face DUI charges, he was mistaken for drunk. His type-two diabetes, left out of control while he attempted to self-detox, was mistaken for a drunken stupor. Before even being able to be booked, he died from ketoacidosis on the floor of a jail cell. This is the groove that has left the deepest mark on the fabric of who I am.
I share my story with you as a way to shine a light on an issue that shows no favorites. Addiction is blind to a person's accomplishments, blind to how loved and respected they are – or were. Those who suffer in silence with addiction or, like me, suffer in silence loving one who is addicted, know you are not alone.