Replacing Immediate Gratification with Patience (Starting Now)
January 24, 2017
::
::
Comments Off

on Replacing Immediate Gratification with Patience (Starting Now)
"Good things come to those who wait."
I've always hated that phrase because, basically, I am not good at waiting. Never have been. I get stuff done in a hurry. I don't waste time waiting. I was content with this approach and it was working for me.
And then I became a parent.
My lack of patience was no longer acceptable. I needed to morph into a superhuman who had all the patience in the world. I had to let them dress themselves, decide what book they wanted at bed time, move at their own pace. Lord, no wonder I am "prematurely gray." I don't have it in me to be that patient.
We used to joke with my uncle as he always encouraged, "Let's go, let's go, let's go!" I swear, I adopted it as my mantra. It wasn't a joke anymore, it was a way of life! Patience didn't work into the equation.
I thought by the time my kids entered the time in their life where they could wipe their own hinders and dress acceptably (please note, matching isn't a requirement for "acceptable"), I wouldn't need to summon up the patience that is terribly hard for me to find.
And then I became a parent of adolescents.
As I think about parenting, adult-ing, mothering, wife-ing and all of the things, patience is required. Heck, it is vital for survival.
Here's the thing about all this self-reflection: I may not be proficient in the act of imploring patience in the day to day workings of my life, but I know I have it in me to sustain the type of patience that brings the great rewards:  love, job satisfaction, a sense of fulfillment and more.
So, how the heck did that happen?  It's simple: I grew up in a time where we waited. We waited for a letter from a friend who moved away. We saved our money and longed for material things before finally getting a ride to the mall only to find out that what we wanted so badly was really junk. We waited for our turn on the phone to call our friend to find out how to solve that ridiculous geometry problem. We waited for our turn to watch that one show we loved only to miss the first 10 minutes because we were stuck at a red light after dance class. We waited because it was a way of life.
My, how things change. Our children truly wait for very little. When my eight-year-old suggests "googling it "when faced with a tricky question in a board game, we have issues.
With the drive-thru nature of our society, we hardwire our kids for instant gratification. Ha. Who am I kidding?  My impatience means I  love the fact that I can multitask and cross things off my list while lounging on my couch. I am huge fan of "drive-thru" living. Just tonight I signed my daughter up for yet another extracurricular activity, paid 2 bills, ordered a super cute sweater that was a "great deal" and requested input from my son's doctor on a recent health issue. I accomplished all that and didn't even need to interact with another human. What's not to love?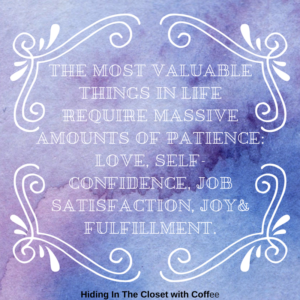 Here's the thing, there are some things that require patience. In fact, you could argue the most valuable things in life require massive amounts of patience: love, self-confidence, job satisfaction, joy, fulfillment.  I desperately want my children to experience all of these things. How can they display the patience necessary to persevere and work hard for the big stuff if they have very little practice?
Their current reality is inundated with ways to do things quickly. How are my kids learning this lesson if every little thing they may want or need is right at their fingertips or delivered to them on a silver platter? They experience more instant gratification than we did as kids. This isn't good or bad, just reality. However, some of the most important things I want for my children require a long, difficult, arduous journey during which they must have patience and often need to ask for help.
By "saving" our kids, fulfilling their every wish, anticipating their every need, we eliminate the need for patience. While I recognize it, I am also completely guilty of this. So, how do I, as a doting (and impatient) mother, muster up the bravery to allow my kids to flounder in a situation? Or watch from the sideline while they struggle with an issue and cheer from the sidelines while they persevere, remain patient and learn from the struggle?
I had no idea.
Well, that wasn't good enough. Knowing it is something I need to address, I have considered ways to set my children up to wait for something, want for something, work for something and sometimes face deep disappointment. It's with that goal in mind I share with you my plan.
Teach them to manage money and save up for what they want.
This past holiday season I found it odd that my kids really struggled to make a wish list. At first I found it comforting to think they were maturing and weren't being greedy. Then, a harsh dose of reality made me realize, perhaps, their inability to make a wish list was because they had everything they could possibly wish for. In that case, ugh. Bigger problem than I thought.
I know I have moments where I am not patient with money. Late night Amazon shopping is my weakness. Talk about lack of patience! I don't even have to drag myself to the mall to get the latest fashions.
Teaching patience through wanting something and saving for it has to be part of the plan.
Back away from the social calendar.
I admit, I am the social secretary for my whole family. I am always working to set up social gatherings for our kids in attempt to keep them engaged with peers. Here's the thing: they don't need me to do that. They need me to back away and let them figure it out.
Part of forming lasting relationships is determining their involvement with certain friends on their own.  At times I feel the pressure to make sure they are getting out of the house, attending events that their friends attend, getting involved in extracurricular activities and are included in all the things. How exhausting. Shouldn't they be the ones to take the initiative and, ultimately, find their place? Good gracious. I have officially resigned my position of cruise director/social secretary for them in an attempt to show them that forming solid interpersonal relationships take effort and time!
Leave space and time for the tough conversations.
Inevitably they will struggle. I cannot and should not anticipate these struggles before they even happen. What do they learn from that? Nothing. I must be patient. I must allow them the time to wrestle with friend issues, academic struggles, missteps in judgement and learning the value of a sincere apology.
The way I can support this development is by waiting in the wings. As painful as it may be, I have to let the highs and lows be something that they truly experience.
Now, if I could just hurry up and get all this done, right?!