Curse the red cart. Seriously, the cart has magical powers. Some wicked marketing genius cast a spell on every woman whose hands land upon that darn handle. It can't be just me. Target carts send me into some dizzy spending tizzy during which I have zero willpower and spend with wild abandon.
At one point in my marriage I was literally banned from Target. It was a self-inflicted ban just as much as a ploy to ensure my husband that I was stronger than the bullseye and Spot the dog. It worked –for about a month.
What is it about that place where you walk in needing tampons and a few rolls of paper towel and walk out with a cute shirt for one of my kids, a must have candle that is too adorable to pass up, a new organizational tool that will bring great peace to my household and the most adorable sports bra that is sure to trick me into working out? Who doesn't want to look cute while sweating? Every trip was a MINIMUM of $75 dollars. Who am I kidding, it topped $100 every time. Damn that cart.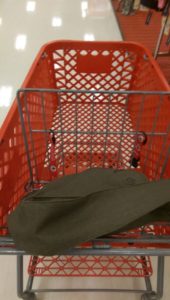 Realistically, I can tell you there is no curse on the cart, rather a state of mind and habit that is really hard for me to shake. I can't be alone in this. I know that Amy and I commiserate on a regular basis about this curse. What is it then?
For me, it is the act of opening those plastic bags and adding little touches around my home that make it feel renewed. It is instant gratification that gives me the illusion that I am progressing towards bigger goals. That cute sports bra will be the kick in the rear end that gets me to the gym tomorrow, right?! If I organize my bills in the cute bin then I will be taking a proactive step towards financial freedom, right?
Even as I write this I feel ridiculously weak. Rationally, I know that the instant gratification of shopping doesn't work, yet I still feel the pull of that darn red cart. What lesson am I passing on to my children if I spend with wild abandon every time I walk through the red doors? Or any other store for that matter. It's not good.  So where did this start for me?
When I was a child, my dad spoiled the snot out of my brother and I. While he was gracious in showing us love in so many ways, he was a great gift giver. After reading a fabulous book that Amy recommended, 5 Love Languages of Children by Gary Chapman and Ross Campbell, I understood that my dad's love language was gift giving. (By the way, if you haven't read it, do it. I have learned so much about my husband and each one of my kids after having a better understanding of how each of them are different in their love language.) In a nut shell, as the book articulately explains that giving gifts and receiving gifts is an expression of love. Whether big or small, my dad thrived on gift giving.
My mother and brother are much different in their love languages and I am a lot like my dad. I LOVE giving gifts to others and letting them know how much they mean to me. Perhaps this explains my tendency to overspend at Christmas (a different post for a different time).
How does this relate to me and that red cart? While there are so many positives to the love language of gift giving, I wonder if the tendency to want for nothing as a child led me to fill my own bucket, at times, by filling my red cart. No blame cast there upon my inherited love language. I am well aware that I hold the purse strings and am in charge of controlling my own spending. I know there a better balance and it is my duty to make peace with the red cart and show my own children the advantages of saving and waiting for something rather than satisfying the instant gratification fire that burns in me. While searching for that wisdom, I am still going to claim that the red cart is cursed.